As you may already know, VRBO / HomeAway don't always provide a connection for price and availability synchronization due to their own restrictions. Here at Smoobu, we are always working to ensure your life is made easier. We have developed our own innovative solution!
It is a combination of x2 connections:
Connection 1) The connection for Availability and Bookings are managed via iCal (Required)
Connection 2) You may control Prices & Minimum stays for VRBO/HomeAway from Smoobu (Optional)
Please note, these connections do not include VRBO Messages or Pricing/Statistics. We recommend to add these into the Booking Details manually.
Step by step
Connection 1)
Required Connect Availability and Bookings via iCal
Have VRBO and Smoobu (Settings/Booking Portals/VRBO) open in 2 separate tabs side-by-side.
1. In Smoobu: Copy the link on the left called "Smoobu iCal"
2. In VRBO: click on Calendar, Availability and select the right property
3. In VRBO: click on Import/Export calendar icon: Import
Paste the iCal link and select "Block dates" or "Show this calendar to ..."
4. In VRBO: click on Import/Export calendar icon again: Export
5. In VRBO: Copy the iCal link from VRBO, unticking the option 'Export tentative bookings'.
6. In Smoobu: Go back to Settings/Booking Portals/VRBO and paste the link into the middle under heading "VRBO / HomeAway Paste the portal link below"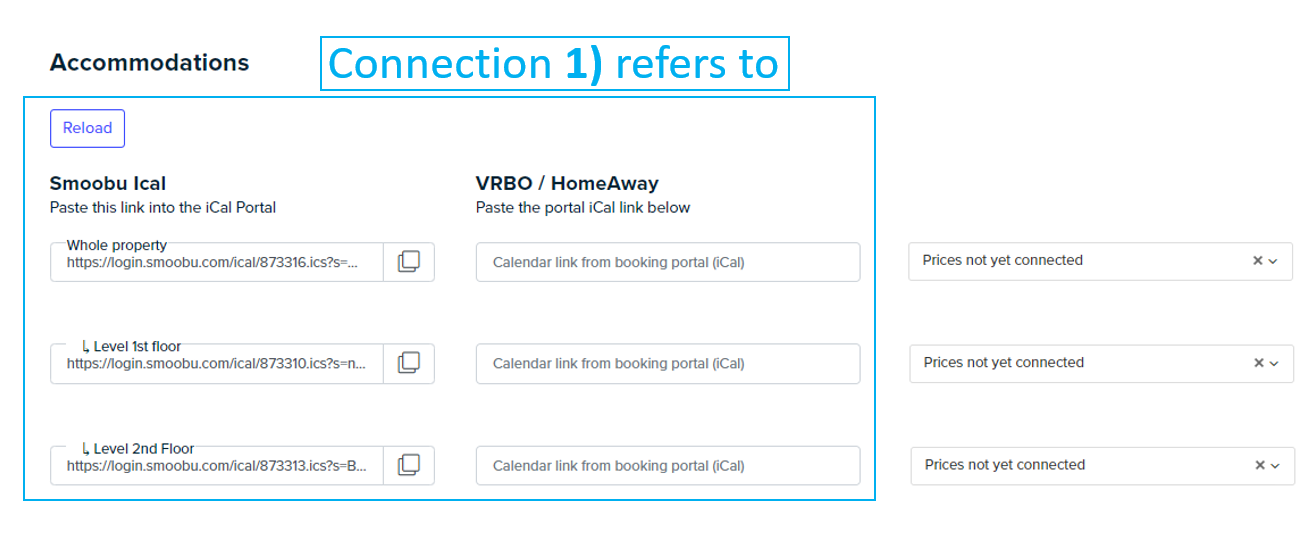 Calendars should now be linked! Please note that these run on sync cycles (not "real time" synchronization)
Connection 2)
Optional Connecting Prices and Minimum stays via API
Have you completed Connection 1) yet? If not, please do this first.
1. Select the Base URL portal you wish to connect (If you log in on VRBO.com, choose VRBO etc)
2. Store your login data of the portal (email and password)
-> If credentials are correct, a 'Verify' and 'Reset' button will appear
-> Click on Verify
-> You should receive a SMS with verification code
-> Enter this verification code here and click on "Verify".
3. Assign the Smoobu units to the portal units clicking "Prices not yet connected" on the right-hand side.
4. Press "Save" at the very bottom of the page
Done! To check if successful, head to Smoobu Calendar to see if the connection is visible for VRBO/HomeAway like below:
We are always happy to receive feedback if something is not working as it should. If you need assistance on this, please reach out to the team.