In case you are happy about one of your portal's prices and wish to use these as your Base price, you might want to use this feature.
First you will import your price and then export them to your connected portals.
Import prices
Go to Smoobu's Calendar page and click on settings. Use the import prices button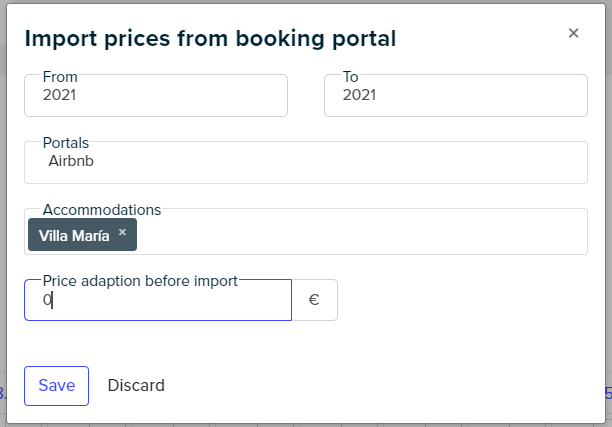 Step by step below
1) Select the period of time for which you wish to import prices. For instance, from 2021 to 2021 will import all 12 months of 2021.
2) Select the booking portal from which you would like to import prices.
3) Select the Accommodation Smoobu should import prices from and to (same).
You will now see the prices from that portal as your Smoobu Base price, adapted by the percentage you had set for that particular portal.
Optional:
4) Define your price adaption before import. If you wish to adapt the prices (either fix value or %) you may enter here the adaption for Smoobu to consider. If you had already set up a mark-up for this portal, this will be calculated after the booking portal mark-up.
Let's say you have a 10% mark-up on Smoobu, so 110 Euros on Booking.com would result in an imported price of 100 Euros. Any adaption you define here will be additional to your mark-up.
Click on Save and refresh the page, and you will be done with the import! Now let's push your new base price through :
Send price to all portals
Would you like your newly imported prices to be pushed to all connected portals?
You might want to double check the prices you have now in the system and get ready to export these to your other connected portals. Please note that this will result in all units being synchronized.
Head to Calendar - Settings. Click on Percentage adjustment - Click on Overwrite prices
All prices will be exported to your other portals.

Here's a Step by Step on how to Overwrite prices.
​​