What is ChargeAutomation?
ChargeAutomation is a globally-recognized leader in facilitating smooth reservation payment & security deposit collection from guests.
CA also offers a FREE online check-in tool to collect Guest ID, Email, selfie, custom questions, e-signed terms & conditions and digital guidebook.
Increase your revenue by $25/booking with ChargeAutomation Upselling services such as room upgrades, early check-ins, late-checkouts or create your own upsell items.


Why would you use this integration?
Set up payment workflows like: 20% on booking day and the rest 48 hours before check-in
Take deposits from Stripe directly
Generate a unique payment link to send to guests
Connect multiple Stripe accounts for different properties
Online check-in process
Free of charge Chargeback protection
Automate refunds according to your cancellation policy
Collect security deposit from any booking source in a form of authorization.
Capture partial or full amount in case of damage.
Deposit can be released automatically or manually
How does it work?

1. Automate your payment processing & security deposit rules per booking source (Auto-payments will be collected according to the schedule).
2. Select your pre-arrival preferences (When a new reservation is received, a link is emailed to the guest to complete their pre-arrival).
Workflow information for website booking payments
Charge Automation is not part of Smoobu's payment methods, but an external integration only. This means that any guest who books online on Smoobu booking system will not pay directly on your website page but via a link provided by email.
The workflow while using Charge Automation is independent to Smoobu's booking system. This means that no option in Smoobu Booking System (at the moment) has been specifically created for hosts who use Charge Automation. Therefore, you need to find the workflow which you think is the most convenient.
For now, we suggest the Invoice option as it's an offline option which will not trigger ANY actions by Smoobu (opposite to options like using Stripe), and will allow for CA to do its job. Also, it does not imply that they're done, as the Pay upon arrival option.
To choose an offline payment method: What payment methods can I offer in the Booking System?
ChargeAutomation will at this point email your guest and request for their credit card details.
Here is a suggestion of a simple workflow. The prepayment and balance of 50% is a suggestion, you may choose whichever % you wish.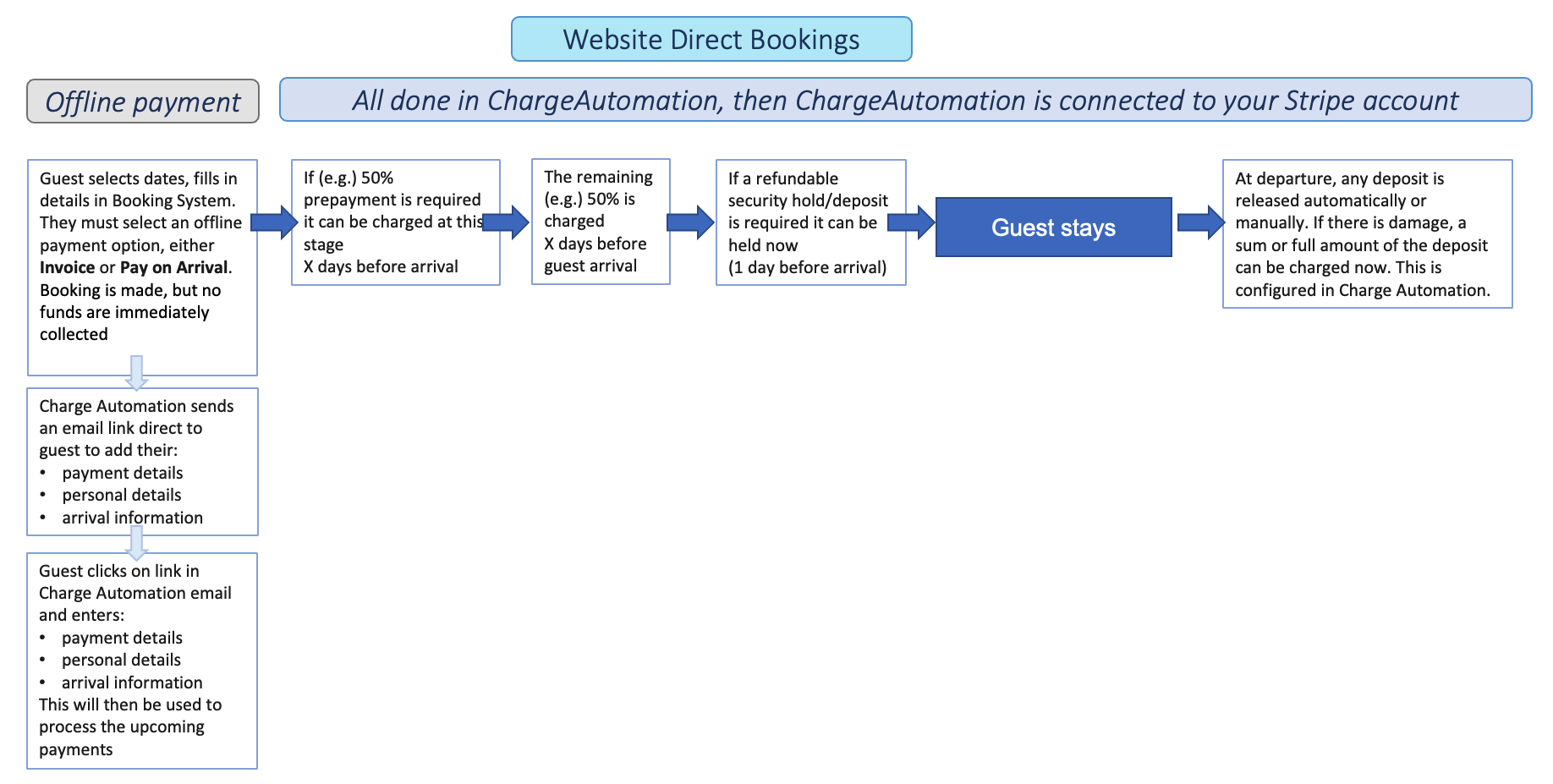 Keep in mind: Best not to have an instant payment processor (aka online payment) like Stripe or Paypal + also use ChargeAutomation. Remember you want the Guest's card/payment details captured in ChargeAutomation, which then transfers into your Stripe account. If you continue to offer Stripe as a payment method in our Booking System, it will bypass ChargeAutomation.
Also the Prepayment % value set in Smoobu's Booking System should match your ChargeAutomation settings/workflow too.
How to connect Smoobu to ChargeAutomation?
1) In Smoobu: Copy your Smoobu API Key from Settings / For Developers.
2) Open your ChargeAutomation account, go to Settings / PMS connection. Select Smoobu and paste the API key there. Save.
3) Then copy this webhook URL https://app.chargeautomation.com/api/smoobu/booking
4) In Smoobu: Paste the webhook URL into Smoobu Settings / For Developers under the heading Webhook URLs. Press Save.
Set up all of your automations on ChargeAutomation's end, and their app will do the rest! :)
How to reach ChargeAutomation customer support
Please email support@chargeautomation.com or use their live chat.
Additional Information
ChargeAutomation will allow to create one-time payment link, connect multiple Stripe Accounts, collect Credit Cards Information from Booking.com and much more!
More information here: Smoobu Settings / Integrations & Partnerships / ChargeAutomation
Kindly note that this integration is currently in BETA. We appreciate all feedback and we will keep working alongside Charge Automation. For any questions, please contact support@chargeautomation.com


WEBINAR Smoobu x ChargeAutomation