With Smoobu you can manage your communication with your guests, regardless of their chosen language.
To make it easier for you Smoobu has created some standard mail templates (Also with translations. Our lovely international team has done this for you!)
Where do you find the message templates?
Go to Settings / Communication / Create
A pop-up window appears:
Select the template you would like to use.
Next to the title you can see that there are language abbreviations, these are the languages in which this message is already available and translated.
EN - English
IT - Italian
ES - Spanish
FR - French
DE - German
PT - Portuguese
In our example below, a Booking Confirmation template is selected. Adding Italian, the translation is already there.
If you wish to add a language that is not on the list, then you can add it manually. Perhaps you speak this language and can translate it yourself, or you use an online translator?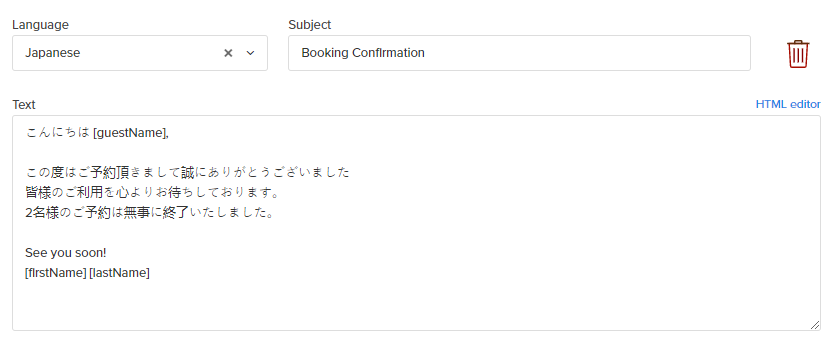 There! Communicating with guests regardless of their chosen language is now easier than ever.
Read also:
Messages / Email in different languages
Create automatic emails for guests upon booking, arrival or departure and at a specific time